Continue Your Education from Your Office
At NARA, we believe in offering our members educational opportunities they can take advantage of throughout the year, no matter where they are! Our webinars offer you the chance to learn from industry experts during online courses that are short and easy to follow, allowing you to learn more about the rehabilitation industry and how to apply it to your rehab business. You can participate in NARA's webinars in a variety of ways: via a laptop, desktop computer or tablet through the GoToWebinar/GoToMeeting application. Our audio conferences can be accessed from any phone line. For NARA Members, we offer both value added opportunities which are provided as part of your membership at no additional cost. We also offer high quality timely programs at a Member discounted registration fee. (Elite Members receive all webinar and audio conferences complimentary as part of their membership). Please see our CEU information at the right for applicable programs.
---
Upcoming Learning Opportunities
---
Audio Conferences
None scheduled at this time. Please visit again soon.
---
Webinars
The Lost Art of Writing: Documenting Medical Necessity
Date: Tuesday, September 26, 2017
Time: 2:30pm EST / 11:30am PST (length is 1.5 hours)
Description:
The "writing is on the wall." Every day we see published reports of multiple rehab settlements; CMS reports on overutilization of therapy minutes and lack of documentation to support the intensity of therapy provided; increased recovery audit activities; and more.
While there are many advantages associated with the migration toward complete electronic healthcare documentation, the art of writing quality notes has been lost amidst drop down boxes and build-a-sentence functions. When you need to capture attention, using similes, metaphors, and vivid imagery to paint a picture, it creates a powerful emotional response. The same should hold true when therapists document medical necessity. The therapist's documentation need to describe services and outcomes for each individual resident clearly. Most therapists have not developed the skills to document clinical reasoning sufficiently to meet the stringent medical necessity requirements by Medicare and other third-party payers.
The changing environment means that therapists need not only to be knowledgeable in the latest techniques or modalities but they also need to document meticulously what they do and why they are doing it. Therapy documentation must reflect skilled therapy interventions to manage specific deficits. Effective documentation begins with a solid understanding of the requirements outlined in the Medicare Benefit Policy, Claims Processing, and Program Integrity Manuals. Keeping current with the latest compliance directives is no longer an option but a professional obligation.
Staff members think they have master the art of writing a thorough evaluation, progress note or discharge summary, it's time to test competency through a self-audit. Does your organization's documentation effectively convey medical necessity and skilled care? High-quality documentation serves the organization well because it provides a real-time, historical account of therapy encounters with residents. Thorough and accurate documentation can be an important source of evidence in the event claims are reviewed for payment or quality of service concerns.

Learning Objectives:
Summarize the Recovery Audit Program/Manual Medical Review Process and its impact to documentation of medical necessity
Identify current clinical documentation issues that may result in denial of payment
Describe and implement the necessary components of documentation to support medical necessity
List tools and resources to aid in conducting a self-audit
Cost:
NARA Member: $149 per registration (Elite Members: Free)
Non-NARA Member: $249 per registration
Speaker:
Angele Tran, OTR/L, CAPS. With over 25 years of operational and clinical experience in healthcare, Angele functions as a compliance specialist for Friends Services for the Aging who provides compliance and risk management services to non-profit communities. Angele brings a background with a focus in long-term care and experience in acute and sub-acute rehabilitation. She has presented at AOTA, Leading Age PA and MD and American Burn Association.
Her expertise includes therapy staff development; documentation compliance; management training and monitoring; development of pathways, protocols, policies and procedures for therapy; therapy program enhancement; Additional Development Request and denial management; development of performance improvement and clinical compliance programs; and Medicare regulations and resources. She has also assisted with selection and implementation of an Electronic Health Record.
CEUs:
PT/PTA/OT/COTA/SLP: 1.50 Contact Hour /0.15 CEU
Must register individually, be active during presentation and complete assessment to be eligible for CEUs.
Classification: AOTA Category 2: Occupational Therapy Process (ID 9038)

ASHA Course #: ABFR0001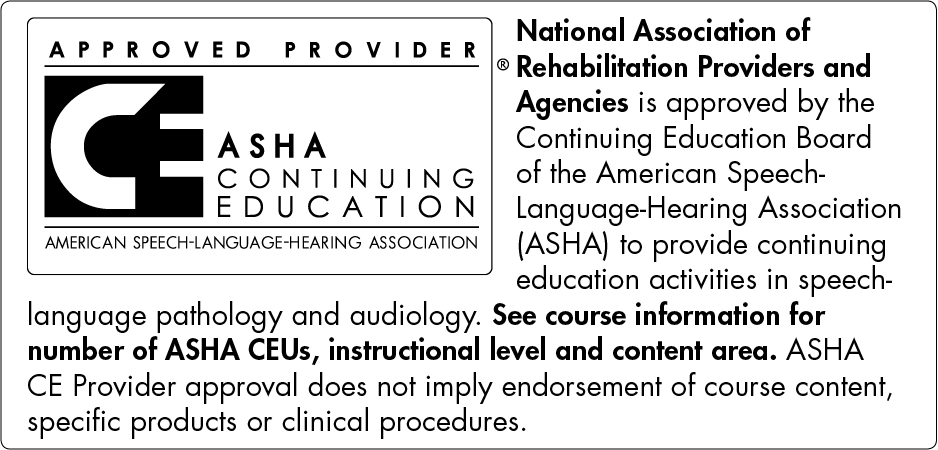 This program is offered for 0.15 CEUs (Intermediate Level, Professional Area)
Speaker Disclosure: Ms. Tran has no relevant financial or nonfinancial relationships to disclose.
---
Understanding and Using the New PT and OT Evaluation Codes [Available in Recorded Format]
Description:
CMS has approved 3 levels of evaluation codes for physical and occupational therapists which becomes effective January 1, 2017. Even though the reimbursement for the level of codes will initially be the same, documentation requirements will differ. During this webinar attendees will we receive a brief history on the evolution of these codes, their descriptions, documentation requirements, case studies, and guidance for educating additional providers. CMS will be looking to see if providers are utilizing the levels properly; thus, education on these codes is key.
The presentation will be 60 minutes in total which will include approximately 15 minutes reserved for questions. We will provide a handout with the slides the day of the webinar. The webinar will be recorded and all registered attendees will receive a link for the recording.
Contact [email protected] to purchase recording