NARA Fall 2017 Conference
Breaking Through Barriers for A Thriving
Rehab Business
Pre-Conference October 10, 2017 (afternoon)
Conference October 11 – 13, 2017
Tropicana – Las Vegas, NV

---
Pre-Conference – October 10, 2017 (1/2 day) (Agenda)
Financial Fundamentals for Rehab Managers
Sponsored by:
Speakers:
Michael Filippo, CEO, Transitional Care Management
Mark McDavid, OTR, RAC-CT, Seagrove Rehab Partners
Therapy managers have a great deal of responsibility including meeting budget, staying compliant and mentoring and leading therapists; this course is designed to provide managers with the fundamentals they need to know to understand and manage the clinical and non-clinical financial resources. Attendees will be provided an overview summarizing essential accounting and financial concepts as they impact the use of resources in an organization. The focus is on developing familiarity with the economic operating environment factors influencing accounting reports, financial activities, forecasting, budgets, and business policy. We will wrap up the pre-conference with a "Real World" panel discussion. We have invited NARA members to participate in this discussion offering insight and experience with their roles as CFO for large health system, CFO for small provider, and VP of Clinical Operations overseeing multiple sites of service.
Who should attend this Pre-Conference:
New Rehab Managers
Current Rehab Managers
Potential Rehab Managers
*To Register for Pre-Conference Only click here
*Additional registration fee for pre-conference. Additional CEUs available for pre-conference to those who meet the requirements.
---
Full Conference - October 11 – 13, 2017 (Agenda)
Breaking Through Barriers for A Thriving Rehab Business
Rehabilitation providers are facing many barriers with regulatory, legislative, and payment reform throughout the healthcare industry. This conference seeks to arm attendees with educational sessions addressing these barriers and offering practical application in their businesses to support thriving operations. Daily sessions include the strategies for success in managing Millennials and multiple generations in the workplace, creating alliances with referral sources to build a patient clientele, redesigning care models and partnerships for innovation in patient care, development of marketing techniques in today's market, healthcare and payment reform updates, compliance changes, visualizing your value in a value-based payment environment and how to make outcomes work for you. Our speakers are industry leaders with extensive knowledge on the topics. What once appeared to be barriers to business growth are now opportunities for your organization to Thrive!

Daily Sessions*
---
Wednesday, October 11, 2017
Growing Your Business
Tattoos, Tweets, and Texts, Oh My! Navigating Millennials in the Workforce

(Nancy B. Alarcon, M.S., CCC-SLP, BC-ANCDS, Principal Lecturer & Director of Clinical Education at UW Speech & Hearing Sciences)

Growing Your Practice with Evidence Based Marketing (Ben Fung, PT, DPT, MBA, UpDoc Media)
Competing to Win! Delivering on Care ReDesign (Hilary G. Forman, PT, RAC-CT, CVP of Clinical Strategies Division and Alissa M. Vertes,

SLP, CHC, Compliance Officer at HealthPro/Hertiage

)

Marketing Techniques for Models in Today's Market (Charles Ross, Chief Strategy Officer at Transitional Care Management)
---
Thursday, October 12, 2017
Healthcare Reform/Legislative Impact
Payment Reform: Where Are We? (Ellen R. Strunk, PT, MS, GCS, CEEAA, CHC at Rehab Resources and Consulting, Inc.)

Healthcare Reform Updates (George G. Olsen, ESQ., Williams & Jensen)

Rehab Agency Red Alert: Compliance with ACA Section 1557 and the CMS Emergency Preparedness Final Rule (Nancy Beckley, MS, MBA, CHC at Nancy Beckley & Associates)

Developing a Game Plan (Panel Speakers and Presentation)

Setting Specific Breakout Session
---
Friday, October 13, 2017
Showing Value in Care/Outcomes
Visualize Your Value (Heather Smith, PT, DPT, MPH and Karen Chesbrough, MPH at American Physical Therapy Association)

Evidence Based Clinical Programming and Reporting Objective Measures (Chris Oltmans and Jennifer Peterson at Accelerated Care Plus)

Collecting, Analyzing and Acting on Outcomes Data to Prepare for Changing Payment Models (Tracy Fritts, PT, MSPT, Vice President of Quality and Outcomes at Consonus and Linda Riccio, OTR, VP of Clinical Services at Creative Health Solutions)

---
Conference Speakers
Mike Billings, PT, MS, CEEAA

President

Topic: Pre-Conference & Utilizing Telehealth

Michael Billings, PT, MS, CEEAA, is the President of Infinity Rehab and has extensive experience in organizational leadership. His special interests include managing evidence-based clinical programs and patient outcomes with special emphasis on therapeutic exercise for the older adult. Michael received a Master of Science degree in Physical Therapy from Duke University and recently completed his Doctor of Health Science degree.

Derek Fenwick, PT, MBA, GCS

Director of Professional Development

Topic: Leading Change: Proven Tools for Real-World Success

Derek Fenwick, PT, MBA, GCS, is the Director of Professional Development at Infinity Rehab. He is a past President of the Oregon Physical Therapy Association and has served on APTA's Post-Acute Care Payment Reform Workgroup and Leadership Development Committee. Derek earned a Master of Physical Therapy degree from Saint Louis University in 2003, followed by a Master of Business Administration degree in Health Care Management from Regis University in 2010. Derek recently earned SHRM Senior Certified Professional status from the Society for Human Resource Management.

Michelle Jabczynski, MS, CCC-SLP

Director of Compliance and Strategy

Topic: Leading Change: Proven Tools for Real-World Success

Michelle Jabczynski, MS, CCC-SLP, is the Director of Compliance and Strategy at Infinity Rehab. She has led an extensive career in the long-term, sub-acute, adult rehab setting as a Speech-Language Pathologist since earning her Master's from the University of Wisconsin in 2005. She joined Infinity Rehab in 2012 as an Area Rehab Director and most recently served as Home Health Director where she achieved operational and financial excellence in both roles. Since 2014, she has served as a Leadership Coach for the Infinity Rehab Leadership Academy. In this volunteer role, she leads department managers through experiential learning and project implementation to achieve professional leadership skills.

Stephen Hunter, DPT, PT, OCS

Administrator

Topic: Fall Conference Welcome

Stephen Hunter PT, DPT, OCS received his physical therapy degree from University of Utah and has worked for Intermountain Healthcare since 1984. Stephen completed a 2-year orthopedic residency at the Kelsey Institute in Austin Texas in 1995 and became board certified in orthopedic physical therapy in 1996. He received his clinical doctorate in July of 2008 from the University of Utah. Currently, Mr. Hunter enjoys treating patients in Salt Lake City and is the administrator over 11 outpatient orthopedic physical therapy clinics. Stephen has a passion for improving clinical quality and has been involved in research on this topic since 1986. Mr. Hunter speaks nationally and has authored several abstracts and articles in such publications as: Spine, The Spine Journal, Physical Therapy, PT Magazine, Work Injury Management, and the Journal of Orthopedic and Sports Physical Therapy. Stephen has been a NARA member for more than 15 years and has served as Regional Coordinator, Membership Chair, Board Member at Large, Vice President and currently serves as the President. He has served as a member of the executive committee for the past 4 years. He enjoys spending time with his family and performing humanitarian work in Africa.

Ben Fung, PT, DPT, MBA

COO & Co-Founder

Topic: Forging Leadership in A Storm of Disruption

As an Independent Media Producer & Startup Entrepreneur, Ben is a healthcare clinician turned social media connector. With experience in every major healthcare setting, his mission is now optimizing growth for companies and investors in various industries including healthcare, geo-technology, human resources, and marketing. Ben currently serves as COO of UpDoc Media, a marketing agency for health/tech businesses; and, as a CFO of Recharge, an investor backed CrossFit-Physio-Mindfulness hybrid with a mission to redefine the healthcare experience by breaking down the silos of medicine, health, fitness and wellness.

Jeff Schlatt, OT/L

Director of Operations

Topic: Developing a Clinical Pathways Program for Today's Reimbursement Models

Jeff Schlatt is the Director of Operations for Athena Therapy, managing all aspects of business for contract therapy services in skilled nursing facilities, assisted living facilities and for home health organizations. An experienced leader, Jeff also oversees operations that provide rehab services at free-standing outpatient clinics and on-site therapy for return to work injuries. His innovative approaches to tracking data maximizes profitability by managing expenses and increasing revenue streams while ensuring excellent clinical outcomes. In addition, Jeff provides consulting services for rehab providers across the continuum of care related to data analytics, business development, operations oversite and employee retention.

Prior to employment with Athena Therapy, Jeff was the CEO at Ohio Diagnostic Services, a company providing functional capacity evaluations throughout Ohio. He also was the director of outpatient occupational therapy at MetroHealth Medical System in Cleveland, a level 1 trauma center. While there, he directed operations for the occupational therapy department, served as the lead occupational therapist for the spinal cord program, and developed the wheelchair clinic and the return-to-work program. Jeff graduated with honors from The Ohio State University with a degree in Allied Health with a major in occupational therapy.

Mark McDavid, OTR, RAC-CT

Rehabilitation Consultant

Topic: What You Need to Know About the Patient Driven Payment Model (PDPM)

Mark McDavid is an experienced leader within the field of skilled rehabilitation therapy services. He has a proven track-record of dynamically growing therapy programs, and he has become a sought after source in regards to regulatory compliance, MDS, MPPR, manual medical review, functional status coding, and documentation. As the owner of Seagrove Rehab Partners, Mark works to enhance therapy-related operations and Medicare compliance in a wide variety of settings, including long-term care and rehab agencies. Mark's knowledge and its application to business strategies has earned national recognition within professional organizations, to include appointment to AANAC's Expert Advisory Panel and election as a board member-at-large for the National Association of Rehabilitation Providers and Agencies (NARA), where he leads the SNF Work Group.

Renee Kinder, MS, CCC-SLP, RAC-CT

Director of Clinical Education

Topic: What You Need to Know About the Patient Driven Payment Model (PDPM)

Renee Kinder, MS, CCC-SLP, RAC-CT, is Director of Clinical Education for Encore! Rehabilitation Services. Additionally, she volunteers as the Gerontology Professional Development Manager for the American Speech Language Hearing Association's (ASHA), is a member of the University of Kentucky College of Medicine community faculty, and is a current RUC advisor and prior CPT advisor to the American Medical Association's Relative Value Update Committee (RUC) Health Care Professionals Advisory Committee (HCPAC).

Sabrena McCarley, MBA-SL, OTR/L, RAC-CT

Director Clinical Operations

Topic: What You Need to Know About the Patient Driven Payment Model (PDPM)

Sabrena earned her B.S. in Occupational Therapy as well as her Master's in Business Administration-Strategic Leadership from Dominican University of California. She is a CarFit Instructor and holds certifications as a Certified Living in Place Professional (CLIPP) and Resident Assessment Coordinator–Certified Program (RAC-CT). Sabrena is a member of the Living in Place Advisory Panel and is actively involved in leadership with the Occupational Therapy Association of California as Chair for Advocacy and Government Affairs.

Sabrena's career has been exclusively in skilled nursing working with the geriatric population with multiple diagnoses and complexities with varying levels of acuity and maximizing their quality of life. McCarley has held staff OT positions, Director of Rehabilitation positions and regional Director of Clinical Service positions providing clinical trainings, regulatory support and mentorship to therapists. In her experiences, she has been responsible for partnering with customers to develop and train compliance, reimbursement and geriatric clinical programs for Occupational, Physical, and Speech Pathology as well as interdisciplinary teams of nurses, administrators, dieticians and social workers. Her philosophy is that the patient is the center of any IDT or holistic approach. In order to get the best outcomes for our patient, we must remember that they are the reason for what we do.

Martha Schram, PT

President & CEO

Topic: What You Need to Know About the Patient Driven Payment Model (PDPM) & Productivity Challenges

Martha Schram is the President and CEO of Aegis Therapies. Ms. Schram is responsible for the overall leadership and direction of Aegis, including the management of the contract rehabilitation and wellness services Aegis provides to healthcare organizations and the oversight of Aegis' growing home health, outpatient and wellness business. Aegis clients include skilled nursing facilities, assisted living facilities, independent living facilities, continuing care retirement communities, home care organizations and individuals utilizing Aegis' Medically Oriented Gyms and outpatient rehabilitation services.

Prior to becoming President of Aegis, Ms. Schram was a Division Vice President and Group Vice President for Aegis. Her varied and successful career prior to Aegis includes serving as an Area Vice President for NovaCare in Wisconsin; an Executive Director of Rehabilitation Services for Divine Savior Healthcare in Portage, Wisconsin; and Clinical Coordinator for the Veterans Affairs Medical Center in Madison, Wisconsin. Earlier in her career, Ms. Schram held a variety of senior management and leadership positions with increasing responsibility in geriatric healthcare businesses.

Ms. Schram earned a Bachelor of Science Degree in Physical Therapy from the University of Colorado at Boulder. She serves on the Board of Directors of the National Association for the Support of Long-Term Care (NASL), and is Chairman of the NASL Medical Services Committee. She is also a member of The University of Colorado Physical Therapy Scholarship Endowment Board and the International Council on Active Aging Advisory Board.

P.J. Windell PT, DPT, MC, CHC

Director of Corporate Compliance and Reimbursement

Topic: Completing Effective Internal Investigations

P.J. Windell, PT, DPT, MS, CHC–PJ is a graduate of Washington University in St. Louis, with a B.S. degree in Physical Therapy; University of Indianapolis, with her MS degree in Physical Therapy; and Des Moines University with her Doctorate in PT. She holds her Certification in Health Care Compliance, and currently serves as the Director of Corporate Compliance and Reimbursement for Creative Health Solutions, as well as a consultant in the field of rehabilitation compliance management.

Additional roles held in the field of geriatric rehabilitation include: National Neurological Specialist with Gentiva Health Services sharing knowledge and expertise in developing appropriate clinical rehab programs within Gentiva with an emphasis on falls and balance, cardiopulmonary and neuro rehab for the geriatric home based population; Regional Director of Clinical Services for Aegis Therapies responsible for clinical program development, training and regulatory oversight with an emphasis on geriatric rehabilitation in LTC settings. P.J. has served as an adjunct faculty member at the University of Indianapolis assisting with their clinical neurology curriculum. P.J. is a member of HCCA, NARA and the APTA including Section membership in Geriatrics and Health Policy and Administration.

Ellen R. Strunk, PT, MS, GCS, CEEAA, CHC

Rehab Consultant

Topic: The Waves of Regulatory Changes: What You Need to Know Now to Avoid Going Over the Falls

Ms. Strunk specializes in helping clients understand the Medicare prospective payment systems for skilled nursing facilities and home health agencies, as well as the Medicare conditions of participation and fee schedule for rehab agencies. Her experience includes utilizing medical record reviews and data systems to help both inpatient and outpatient therapy providers meet regulatory guidelines and deliver medically necessary therapy services in these settings. Ellen received her Masters in Physical Therapy from the University of Alabama at Birmingham, and earned her American Physical Therapy Association (APTA) Board Certification in Geriatric Physical Therapy in 1999. She has been a practicing physical therapist for over 20 years, working in the hospital, skilled nursing, home health, outpatient and cardiac rehab settings. She has held various roles including clinician, manager and Director over multiple programs. Presently, Ellen is owner of Rehab Resources and Consulting, Inc., a company providing continuing education and consulting services for post-acute care settings. Ellen is a member of the American Physical Therapy Association (APTA), where she has served on Payment Policy Strategy Committees advising the APTA Board of Directors on payment policy in all settings. She serves on a state level as the Chair of the Practice and Reimbursement Committee for the Alabama Physical Therapy Association. In 2009, Ellen became a Certified Expert in Exercise for the Aging Adult, a certification course sponsored by the APTA's Academy of Geriatric Physical Therapy. In 2015, Ellen became Certified in Healthcare Compliance through the HealthCare Compliance Association.

Heather Smith, PT, MPH

Director of Quality

Topic: Quality Reporting Under Medicare Part B: Deciphering QPP, MIPS and APMs

Heather Smith currently serves as the Director of Quality for APTA. In her current roll, Heather leads and coordinates quality initiatives for the Association and develops key member resources related to quality for programs under Medicare that impact PTs including the respective post-acute care Quality Reporting Programs (QRPs), the Merit-based Incentive Payment System (MIPS), and the Functional Limitation Reporting (FLR) requirements for therapy services under Medicare. She serves in a consulting role for the Physical Therapy Outcomes Registry with a focus on measure development and compliance with quality reporting regulations. She has presented at national meetings and webinars on quality related topics that impact physical therapists.

Heather is involved in several technical expert panels which work to maintain measures for quality reporting programs including: MIPS measure #130 Documentation of Current Medications in the Medical Record, #131 Pain Assessment on Evaluation and #182 Functional Outcome Assessment. Additionally, she participated in two TEPs in 2013 convened by the Centers for Medicare and Medicaid Services and RTI International which focused on the results of the Developing Outpatient Therapy Payment Alternatives (DOTPA) project including data analysis for the Continuity Assessment Record and Evaluation (CARE) item set.

Heather previously worked for New York Presbyterian Hospital and University of Pennsylvania Health System where she served in a quality improvement position. She received a Black Belt in Six Sigma from Pennsylvania State University. Her transition into quality was facilitated in part by the acquisition of her Masters in Public Health from Drexel University. Previous to her role in quality improvement, she was a practicing clinician for over ten years.

Dennis E. Venvertloh, CPA CHC

President & CEO

Topic: Assistant Pay Reimbursement: Assessing the Impact & Analyzing Strategies for the Future

Dennis is a life long resident of Quincy, IL. He received his Bachelor of Science in Accounting from Quincy University and is a Licensed in Illinois as a Certified Public Accountant. Dennis is also Certified in Healthcare Compliance through the Health Care Compliance Association (HCCA). He has worked in public accounting and banking prior to co-founding Apex Rehabilitation, Inc d/b/a First Choice Physical Therapy in 1994 with his wife.

He currently serves as President and Chief Executive Officer of First Choice and oversees the Company's finance, accounting, compliance, human resource and billing operations. Dennis current serves on the Board of Directors of the HomeBANK, the National Association of Rehabilitation Providers and Agencies, and as Chairman of the Adams County Sheriffs Merit Board. He is a past President of the Board of Directors of Quincy Notre Dame High School, former member of the Board of Directors of the Quincy Notre Dame Foundation and past State Treasurer of Illinois Ducks Unlimited.

Nancy J. Beckley, MS, MBA, CHC

President

Topic: Small Group Breakout Discussion - Compliance

Nancy Beckley is President of Nancy Beckley & Associates LLC, a firm specializing in outpatient therapy compliance. The firm offers compliance outsourcing, risk assessment, compliance plan development, annual compliance training, and external auditing, due diligence and investigation support. Clients including providers under Medicare probe review, progressive corrective action plans, corporate integrity agreements, ZPIC investigations and RAC audits. The firm's signature product is the compliance learning management system (LMS) for rehab specific courses in fraud, waste and abuse and therapy risk. Training courses are delivered to over 5,000 therapy providers on an annual basis.

She is a nationally known speaker and author in the area of rehab compliance, and has presented at the Provider Practice Compliance Conference, Florida Compliance Conference, and the Annual Compliance Institute. She is a columnist for Compliance Today and the APTA Private Practice Section's IMPACT magazine.

As a twenty-year NARA member, Nancy is considered a top knowledge expert in rehab agency and CORF regulations and has worked with over 125 provider groups in their quest for survey, certification, accreditation, policies and procedures, plan of correction and certification appeals. Nancy was a member of the NARA workgroup assisting AAAASF ("Quad A") in their Medicare application as a rehab agency deeming authority and was on the training team for the first group of Quad A inspectors/surveyors, and has served on the Quad A advisory group. Nancy served on the CMS Technical Expert Panel for CORFs advising CMS on the opportunities and potential for CORFs from a policy and regulatory perspective.

Nancy has been a NARA Board member, Program Chair, Nominating Committee Chair and now serves as the coordinator of the NARA's Compliance Special Interest Group. Nancy is certified in health care compliance by the HCCA Compliance Certification Board, and was among the first in the therapy industry to be certified, continuing to encourage others rehab providers further seek certification. She has a MS in Therapeutic Recreation from the University of Illinois, and an MBA from the University of South Florida. She is a frequent speaker for APTA at the state and national level with upcoming presentations at FPTA, PTAW, APTA Private Practice Section and Combined Sections meetings.

Bill Wilson

VP Sales & Marketing

Topic: Health Care Held Hostage – How to Arm Your Practice to Defend Against Cyberattacks

Chris Peterson PT, DPT

Director of Telehealth

Topic: Utilizing Telehealth Applications in Your Practice

Chris Peterson is Director, Telehealth for Hartford Healthcare. He has clinical background as a physical therapist and business experience in healthcare management. In addition Chris has served as an adjunct faculty member in the doctoral physical therapy program at American International College in Springfield, MA and currently serves as Chair for the American Telemedicine Association's Telerehabilitation Special Interest Group.

Linda Riccio, OTR

Vice President of Clinical Services

Topic: Can we talk? Facing Productivity Challenges in a Patient-Centered World

Linda Riccio, OTR has worked in various roles and settings in older adult care, in both operational and clinical roles on national corporate levels including long-term care, hospice and home-health settings.

Linda consults in healthcare strategy nationwide as President of Creative Rehab Strategies, a company that provides education and consulting services for post-acute care. Linda also is the Vice President of Clinical Services for Creative Health Solutions, a contract rehabilitation company based in the Midwest.
---
Continuing Education Availability
Pre-Conference: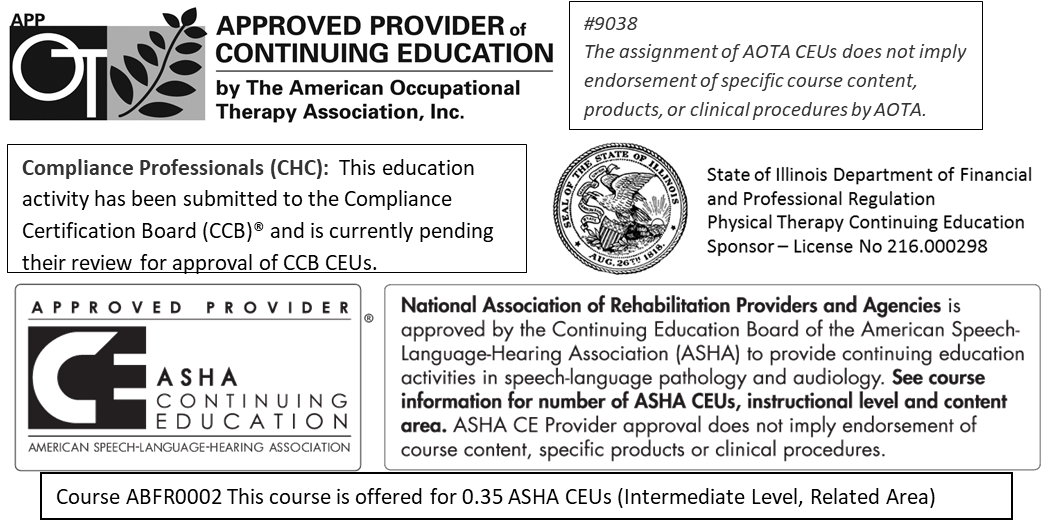 Conference:
---
Cancelation Policy
Our cancelation policy is: Registrations are transferable to other people for the same conference at anytime. All cancelations must be confirmed in writing a minimum of 3 weeks prior to the conference start date to be eligible for a full refund, less a $100 cancelation fee. A cancelation made less than 3 weeks before the conference start date is not eligible for a refund, but can be transferred to another employee of the organization. Participant(s) who do not cancel in writing will be considered as "no shows" and will not be eligible for refunds/credits.
*Agenda subject to change