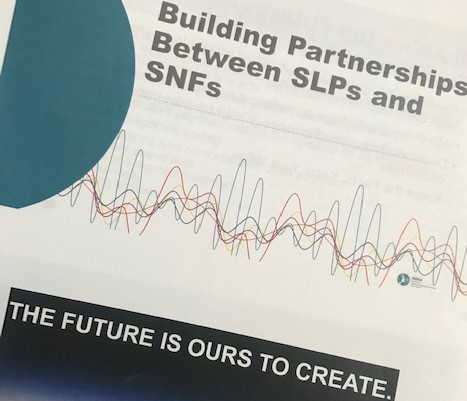 A Message From NARA's President: Reflections on Inter-Professional Practice, ASHA, and PDPM
The American Speech-Language-Hearing Association (ASHA) has been making a concerted effort to build partnerships between their Speech Language Pathologist members and SNF therapy providers. I had the privilege of sitting on a panel last week representing NARA and skilled nursing rehabilitation providers at the ASHA Healthcare Connect conference in Chicago, Il. Monday, I attended a meeting with ASHA and a team of providers titled "Building Partnerships between SLP's and SNF's."
At the Healthcare Connect Conference, the panel of highly successful and educated speech language pathology leaders and an audience of engaged and dedicated practitioners provided an amazing opportunity to interact with influencers in our field helping to drive programs and policy to support effective utilization of speech language pathology practice in skilled nursing facilities. ASHA has made an impressive effort to collaborate with therapists and providers to assist with education and resource development as we transition into and successfully implement PDPM. Hearing what clinician's fears and what the misperceptions are as we approach changes in payment will only make us better. We will be better armed to lead and support our clinicians through these times of dramatic change in payment, and to drive evidence-based changes in practice.
ASHA started our dialogue on Monday with a slide that I believe says it all: "The future is ours to create."
We discussed priorities for member engagement, CMS expectations, and most importantly the value of SLP's in skilled nursing facilities and post-acute care. As providers, we shared the difference between communication of perceived administrative mandates and operational strategies and how sometimes the two can be confused when the message is delivered. An excellent example of this is an operational strategy that may be developed for assessing ongoing staffing needs with an assumption of a certain percentage of group and /or current therapy. This might be misconstrued as a mandate that every patient receive that particular percentage of group/ concurrent therapy. This concept and risk are very important to keep in mind as we message change to our employees. One communication strategy that I particularly appreciated was to ask an employee to reframe and re- state what they heard back to their trainer/ manager in order to demonstrate their understanding and clear up any misconceptions that may arise.
It was interesting to see that some questions presented to the panel arose from a place of fear of underutilization and others for a fear of overutilization. Each provider and each facility have a unique need, perspective and approach to PDPM. There is no one size fits all. Change is hard and change brings uncertainty. How we as providers approach this change and provide our clinicians language to use to combat rumors and clinical strategy to increase patient outcomes and quality measures will be essential in our success.
Some areas of concern from clinicians included:
How will productivity be impacted in PDPM?
Is this going to limit further my access to resources needed to provide excellent care?
What will my day look like under PDPM? How will it be different than today?
Will every patient I see need to receive group or concurrent treatment?
Will I evaluate and treat every new admit?
Do you know the answers for your practice? Are your SLP's armed with information to show their value?
ASHA is certainly not alone in their efforts!
NARA has also had the opportunity to collaborate with APTA and AOTA as we all prepare ourselves for reimbursement model changes. We have been honored to have NARA members involved in AOTA's day long PDPM educational offering, and work with them on providing valuable resources to OT staff. We also have worked in partnership with APTA on refining and distributing the excellent tools that they have created for PT clinicians in preparation for PDPM. We look forward to collaboration with all of our partner associations as we move into PDPM, and beyond.
It's wonderful to see provider groups like NARA and professional groups like ASHA, AOTA, and APTA working together to ensure that our practices are providing evidence-based, clinically appropriate care, and providing an optimal working environment for clinicians. Times are changing for providers and clinicians. We are working to achieve the Triple Aim of healthcare together. We must improve the patient experience of care (including quality and satisfaction); improve the health of populations; and reduce the per capita cost of health care. This will mean changing how we view things. This means shifting priorities. This means Interprofessional collaboration. NARA members are uniquely positioned across the continuum of Acute and Post-Acute care, and collaboration is what we do best! Working together we can achieve great things!
The future is truly ours to create!
What ASHA's Working On:
New ASHA Resources to Prepare for Medicare's Payment Changes in Skilled Nursing Facilities (SNFs) On October 1, Medicare's Patient-Driven Payment Model (PDPM) goes into effect and will impact speech-language pathologists who work in SNFs. Learn the facts about new payment model https://www.asha.org/Practice/reimbursement/medicare/What-SLPs-Need-to-Know-About-the-New-Medicare-SNF-Payment-Model/
and how to demonstrate your value.
https://www.asha.org/Practice/reimbursement/medicare/Demonstrating-the-Value-of-SLP-Services-in-the-New-Medicare-SNF-Payment-Model/
Free Webinar on Payment Model Changes in Home Health Join ASHA, the American Physical Therapy Association, the American Occupational Therapy Association, and the Centers for Medicare & Medicare Services on August 5 for a webinar focusing on the impact of Medicare's Patient-Driven Groupings Model (PDGM) on therapists. Registration is required. https://goto.webcasts.com/starthere.jsp?ei=1252583&tp_key=fb2be41070
Thank you,
Kelly Cooney, CCC-SLP, CHC
NARA President