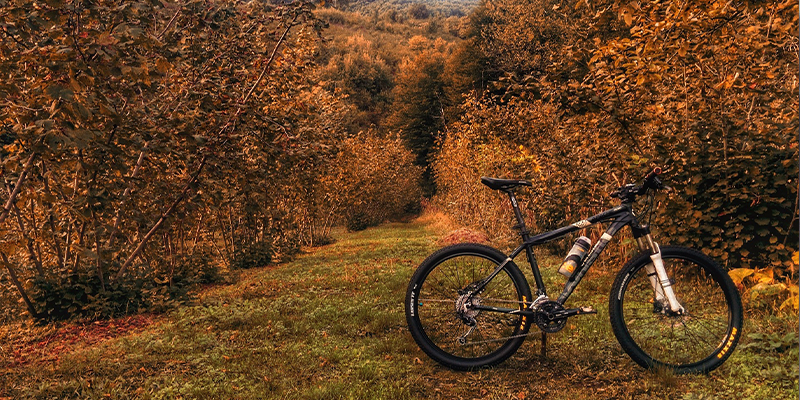 Now that the weather is cooling down and we no longer have to worry about the brutal summer heat, it's time to enjoy the outdoors as much as possible until it gets too cold. These five exercises are perfect for fall weather and allow you to enjoy all of the pretty scenery this season has to offer.
Scenic hiking
If you have any pretty trails near where you live, now's the perfect time to go on a hike! Not only do the fall months make for the perfect hiking temperature, but you get to enjoy the pretty leaves as you hike. If you're into running, you can run the trails for an extra challenge.
Try one of these hiking challenges if you're looking to push yourself a little further: 8 Hiking Challenges
Outdoor yoga
Yoga is peaceful as it is, but it's even more relaxing when it's outdoors. Set up your yoga mat in your yard or visit a nice local park. Yoga is a great form of physical activity, but it also improves flexibility and comes with various mental health benefits.
Here are some outdoor yoga poses you can try: Outdoor Yoga Sequences
Bike ride
If you're looking for an exercise that's easy on your joints but great for strengthening your muscles, going biking is a great idea. Grab a friend or two and go on a nice group bike ride to stay active while enjoying the cool temperatures.
Looking to make your biking experience more comfortable? Here are some tips: 10 Ways to Make Your Bike Ride More Comfortable
Kayaking
Getting out on the water may seem like more of a summertime activity, but kayaking is actually a great fall activity as well. It is a low-impact activity that works your entire upper body as well as your core. Plus, nothing beats being surrounded by pretty water and colorful leaves!
If you're a kayaking beginner, check this out: Kayaking 101: Tips and Tricks for Beginners
Yardwork
Believe it or not, you could turn chore time into a workout in the fall! Rather than dreading the weekly task of raking leaves, look at it as an opportunity to get some cardio in. Kill two birds with one stone this fall!
Here's a list of must-do fall yard work: The 15 Must-Dos of Fall Yard Cleanup
Today's a great day to get outside, do your body a favor and stay active. We hope you're able to enjoy the fall season as much as possible before the cold temperatures hit!