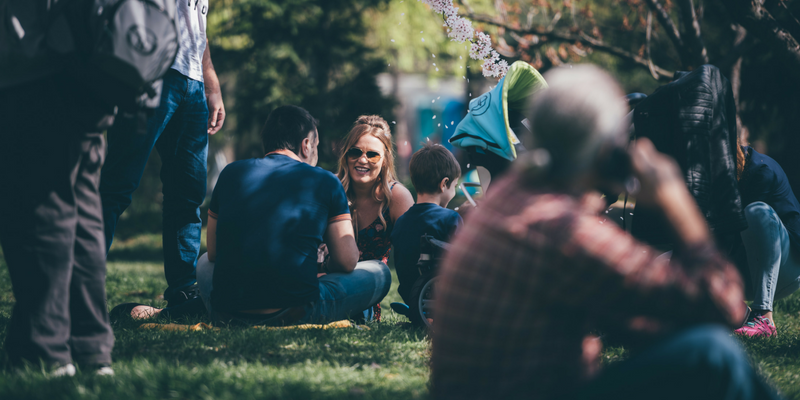 The last Saturday in September is Family Fitness Day in the United States, and there is no reason why your patients ought to miss out on the fun! As we all know, the involvement and support of a patient's family is one of the most important factors in their recovery. There's a lot to be gained for your patients and their loved ones if you can get them exercising together. Research tells us that families that engage in physical activity typically enjoy better communication in the home and a stronger sense of attachment, which can be a great source of motivation for recovering patients to exercise outside of their scheduled physical therapy sessions.
If you want to get your patients and their families moving together this September 29th, here are a few fun, easy and surprisingly beneficial activities that you can suggest to them.
Walking
It may seem obvious, but going for a nice long walk is one of the easiest and best things that people can do for their health. Walking is a low-impact, full body exercise that strengthens muscles, improves heart health, and may also improve the mood and accelerate healing according to the Harvard Health Letter. Even better, the family that walks together talks together. Going for a walk is a great chance to get everyone away from the distractions and pressures of their daily lives to relax and catch up.
Biking
Patients looking for an even lower-impact activity than walking need look no further than the bicycle hanging in their garage. Most families have bicycles, even if they don't get them out very often, and there are a host of benefits to dusting them off and hitting the trail. People undergoing physical therapy in particular will appreciate cycling for taking the weight off of their legs while allowing them to utilize a range of motion that's required for most daily living activities.
Catch
Whether you play with a Frisbee, a ball or something else entirely, a game of catch can be a great way to get the whole family outside and moving. Inflatable beach balls can be used if small children are involved, while older kids and adults might find that flinging a Frisbee or tossing some pigskin is more their speed. Those looking to build some strength can toss a medicine ball, which has the added benefit of improving coordination and balance even when tossed gently between players.
Swimming
Summer will soon give way to fall, but more and more gyms, hotels and sports complexes are adding indoor pools to their list of offerings. Being in the water is fun for people of all ages, but the natural properties of water can make a dip in the pool an attractive exercise option to your patients as well. Hydrostatic pressure offers support and stability, while buoyancy can take the weight off of joints and muscles. Water also offers gentle resistance that is great for strengthening muscles and getting the heart pumping.
Bowling
Much like golfing, bowling is a game that's deceptively good for you. You need your whole body to lift and chuck a bowling ball with any accuracy, and most bowling alleys offer balls in a variety of weights so that their customers can select something that's right for their needs and ability. If hefting a bowling ball is too strenuous or falling is a risk, there are plenty of lawn-bowling games that can be played in the relative safety of the backyard while standing or seated. Encourage your patients to get creative! A surprisingly serviceable bowling alley can be thrown together indoors using a few water bottles and a soccer ball if necessary.
Share these fun, family-friendly activities with your patients to inspire a healthy lifestyle for their whole family. As they exercise together, they spend quality time together, which contributes to their overall mental, physical and emotional health. As healthcare providers, that's exactly what we want.