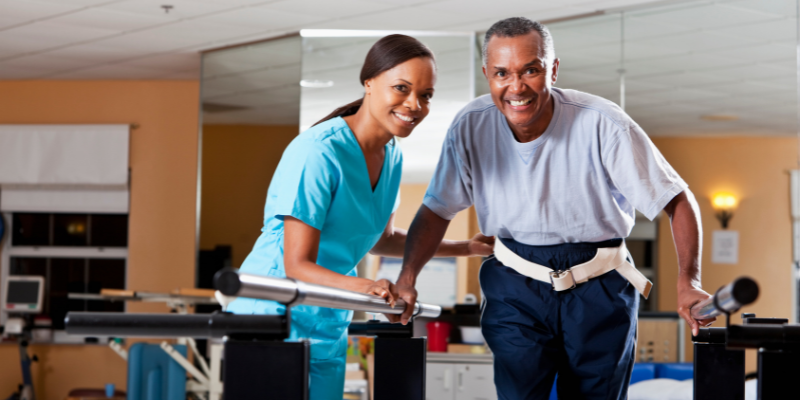 May is American Heart Stroke Month and it is observed yearly to raise awareness about the causes of strokes and how they can be prevented. The American Stroke Association reports that stroke is the number five cause of death and is the leading cause of disability in the United States. A stroke can cause damage to the connections between the brain and muscles, which can negatively impact an individual's mobility. Physical therapy can help restore movement and positively impact the quality of life for those who have suffered a stroke. In today's blog, we will share with you how PT can benefit stroke patients, so read on to learn more!
Help Patients Relearn Everyday Movements and Activities
Physical therapy after a stroke can help patients relearn everyday movements and activities, especially simple motor activities. The exercises used in physical therapy allow the patient to rebuild strength and will help improve their mobility over time. During PT, the physical therapist will have the patient do exercises that will not only help them rebuild their physical strength but also help them retrain their brain to control their muscles. This will allow for a faster and more effective recovery.
Personalized Treatments to Meet Each Patient's Unique Needs
Physical therapy provides each patient with a personalized treatment plan which can effectively help patients throughout their recovery. Within the first PT appointment, patients' symptoms are assessed which will allow the physical therapist to create a personalized care plan to help improve mobility, balance, and muscle function. Each stroke patient will have different symptoms which can vary in severity, PT can help them regain and maintain as much independence as possible.
Physical therapy can help stroke patients throughout their recovery process and will allow them to recover faster. Strokes are extremely traumatic and can trigger emotional responses including post-stroke depression. Physical therapy can help stroke patients maintain their independence, which will drastically improve their quality of life and will help them feel better and happier overall. You can learn more about the risk factors, signs and symptoms, and stroke prevention here.
At the National Association of Rehab Providers and Agencies (NARA), we provide our members with educational opportunities, advocacy opportunities, and legislative updates regarding the rehabilitation industry. To learn more about becoming a NARA member, visit our website! If you need assistance or have additional questions, please contact us!