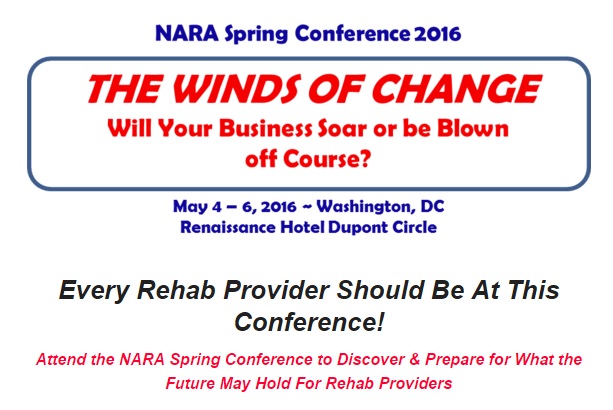 It's so close now, we can feel it! This will be our final blog before the spring conference. So, without further ado, this what you should expect on the last day of the conference: Friday, May 6th: Final Day of the Conference The morning session will involve a breakfast with George Olsen & Co., the law firm that works with NARA on many of its legislative issues. This session does require an additional registration and fees. George will provide a more in-depth look at politics and impact on how it impacts healthcare and the rehabilitation industry. Attendees will have the opportunity to ask questions throughout this unique experience. When this ends at 8:15 a.m., there will be the session sign-in, along with a breakfast and membership for those who were unable to attend the breakfast with George. Membership networking will also take place at this time. The general legislative session will start promptly at 8:30. The topic of discussion will be "A Little Help from Our Friends!" NARA works with a number of organizations on legislative and regulatory matters. Representatives from these organizations will attend this session to talk about the issues of mutual interest to both groups. These organizations include:
American Occupational Therapy Association
American Physical Therapy Association
American Speech-Language- Hearing Association
National Association for the Support of Long-Term Care
American Health Care Association
American Medical Rehabilitation Providers Association
The next session will look at the Jimmo v. Sebelius case, with a representative from the Center for Medicare Advocacy speaking. The Center for Medicare Advocacy and Vermont Legal Aid have gone back to court seeking to compel CMS to comply with the terms of the settlement agreement which ended continued application of the "improvement standard" by to deny Medicare coverage for skilled maintenance therapy and nursing. After the break, we will have our final session, with is Fraud and Abuse in the Health Care Sector/HIPAA and Cybersecurity. The Spring 2016 NARA conference will end at noon after some closing remarks. We hope you're excited for the conference! We have a great set of speakers lined up, all talking about engaging topics of relevance to our field. NARA looks forward to reuniting with all its members.