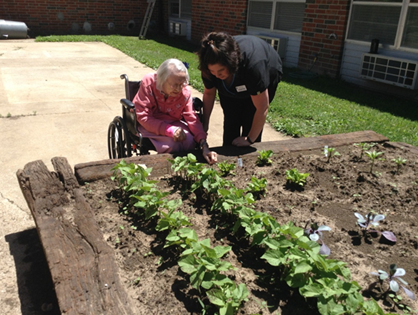 April is the designated month to celebrate occupational therapy and the 2018 AOTA theme is -"Occupational Therapy: Empowering Independence". Occupational therapy practitioners are uniquely positioned to help reduce healthcare costs as we focus on holistic treatment approaches. In 2016, an independent study conducted by health policy researchers found that, occupational therapy is the only spending category that results in significantly reduced hospital readmission rates (Andrew T. Rogers, 2016).
Occupational therapy intervention begins with an individualized plan of care that is based upon a comprehensive evaluation utilizing the occupational profile. "The occupational profile is a summary of a client's occupational history and experiences, patterns of daily living, interests, values, and needs" (AOTA, 2014, p. S13). It is also important to note that CMS requires every OT evaluation to include a standardized test or measurement. Standardized tests are important as they are evaluation tools with established statistical reliability and validity and they capture objective measurements to support our treatment plan; they can support reimbursement; they identify deficits and impairments; they provide results that can be used as a baseline when repeating the test throughout the patient's plan of care and can show improvements. Standardized test scores can also be used as a goal when tied into function.
Occupational therapy practitioners should utilize functional activities that are meaningful and purposeful to our clients to allow for a sense of accomplishment and provide familiarity. For example, upper extremity impairments can be addressed utilizing functional activities such as folding laundry or meal preparation activities such as chopping, mixing, pouring and opening of jars.
Occupational therapy practitioners are a vital member of the interdisciplinary team and should be involved in the following clinical programs (not an inclusive list):
Fall Prevention
Medication Management
Pain Management
Urinary Incontinence Program/Bowel and Bladder Program
Contracture Management
Positioning Programs
Orthopedic Programs
Cardiovascular Programs
Neuro/Stroke Rehab Programs
Cognition/Dementia Staging Programs
Home assessments
It is imperative that occupational therapists ensure that the distinct value of occupational therapy is represented in everything that we do for our clients. We must ensure that our client's plans of care are comprehensive and that their goals and treatment strategies and interventions are individualized and that our outcomes tie back to our distinct value.
During the 2016 AOTA Annual Conference, Amy Lamb, AOTA President stated, "I believe that words may inspire but only actions create change. Be an influencer of change". As occupational therapy practitioners we have the ability to empower independence with our clients and help them maintain their highest level of independence. You can't spell function without fun and it is important that we create fun in what we do while staying focused on our patients and achieving their goals.
References:
American Occupational Therapy Association. (2014). Occupational therapy practice framework: Domain and process (3rd ed.). American Journal of Occupational Therapy, 68, S1–S48. https://doi.org/10.5014/ajot.2014.682006
Andrew T. Rogers, G. B. (2016, September 2). Higher Hospital Spending on Occupational Therapy is Associated with Lower Readmission Rates. Medical Care Research and Review, 74(6), 1-19.